Host a screening that could save a life
JOIN our Team Ripple family and host a screening that could save a life!
A film and a movement to eradicate suicide and to give people hope to #BeHereTomorrow
"This film will save lives…"
 DR JOHN DRAPER
National Suicide
Prevention Line

Documentary: "SUICIDE – THE RIPPLE EFFECT"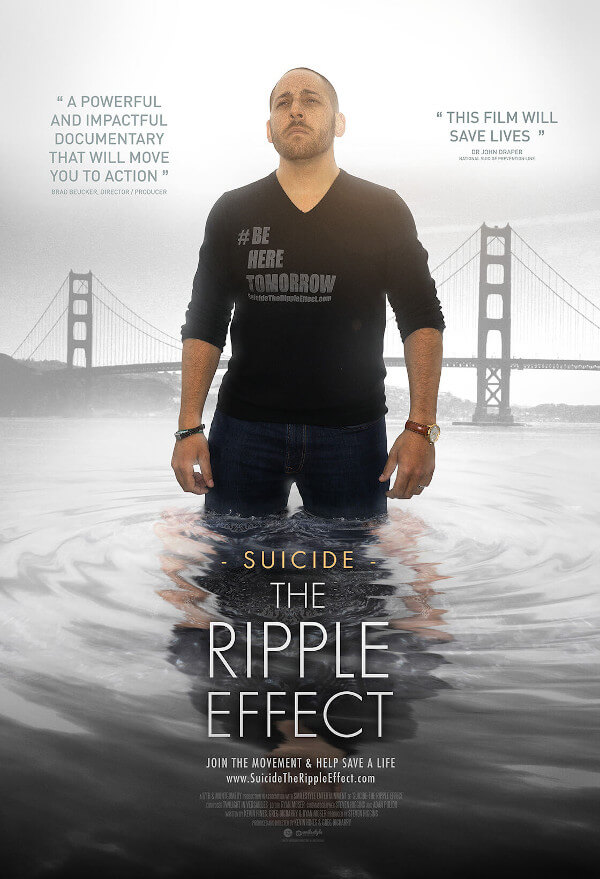 "Suicide: The Ripple Effect" is a feature length documentary film and MOVEMENT, focusing on the devastating effects of suicide and the tremendous positive ripple effects of advocacy, inspiration and hope that are helping millions heal & stay alive. Seen by over 500,000 people already, across 7 countries, this film is having a global impact.
The film highlights the journey of Kevin Hines, who at age 19, attempted to take his life by jumping from the Golden Gate Bridge. Today Kevin is a world-renowned mental health advocate, motivational speaker and author who travels the globe spreading a message of hope, recovery and wellness.
The film chronicles Kevin's personal journey and the ripple effect it has on those who have been impacted by his suicide attempt and his life's work since.  In addition, the film highlights the stories of individuals and families who are utilizing their personal tragedy to bring hope and healing to others.
WHY THIS STORY
Suicide is an epidemic that takes over 800,000 lives globally every year. In the United States alone there are one million suicide attempts and over 40,000 deaths by suicide every year. Our United States Military is devastatingly impacted with 22 Veterans dying everyday by suicide, and that is an understatement.
Research has shown that for every one suicide death, over 115 people are directly, and secondarily  effected and the financial cost of suicide in the US is estimated to be over 40 billion dollars annually. Suicide is global public health crisis that is not receiving the attention it deserves and therefore millions continue to die and the ripple effects of these deaths continue to devastate parents, children, families, friends and communities.
This film will shine light on the reality of this ongoing crisis and highlight effective efforts that are helping people stay well and alive. This film is uniting and igniting change that will have a tremendous positive impact on reducing the number of suicides and suicide attempts around the world. It is not just a film; it is a movement.
There have been other films about suicide but most have been very sombre. This film will take a very hopeful, intriguing, and yet entertainment-focused approach by highlighting the work being done by individuals who have been directly impacted by suicide. Work that raises eyebrows, and pushes people toward giving back to their communities.
In addition, this will be the first full length feature documentary film focused on Kevin's story, which is very dramatic and miraculous.
BATON ROUGE – FEB 23rd, 2018
Our WORLDWIDE Premier was on February 23rd, 2018
Over 500 people turned out to watch the film with us for the first time on the big screen! Huge thank you to the Baton Rouge Parent's Magazine, Louisiana Film Fest and BR Crisis Intervention Center for hosting the event with us! And big thanks to our amazing panelist after the film Emma Benoit, Tonja Myles and Raymond Tucker and special performance by Michael A. V. Mitchell of #beheretomorrow Photos by George at Eye Wander Photos.