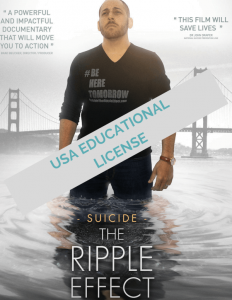 At the moment we don't offer any licenses for sale.
If you haven't seen the movie yet, you can do so here.
PURCHASE an EDUCATIONAL license of "Suicide the Ripple Effect" to show the film in your college, university or school (one campus, unlimited use)
A Educational License is used for a screening event, not held in a movie theater through our Theatrical-On-Demand platform.
You are responsible for handling all logistics for the screening.
Your screening can be a fundraiser for a non-profit.
We provide the film in Blu-Ray, DVD or digital download format.
Please allow 7 business days for delivery
To help ensure your event is successful, we provide:
Press Release Template

Guide to Selling Out your Screening

USA and Australia Cast Look Books

Q&A Discussion Guide

Pre & Post Surveys to Collect Data

Screening Toolkit

Webinar on how to Host a Screening

Photos, Flyers, Posters

Logos, Memes

FAQ Sheet
By purchasing this product, you agree to the TERMS and CONDITIONS of this contract.
If you require an INVOICE, please use the discount code: INVOICE at checkout. This will notify our team you require an invoice for your purchase. (you will not be charged anything)
We accept ACH / Wire / Checks or Purchase Orders
If you have any questions about the ordering process please email screenings@suicidetherippleeffect.com
COPYRIGHT 
A screening license is legally required for any public event. iTunes, Amazon Video, VUDU, Google Play and individual DVDs are strictly for personal/home viewing. This film may only be shown publicly in a community location or school if the appropriate Community License has been obtained. This film is protected by US and International Copyright laws. Showing this film without the appropriate Community License is strictly prohibited by law.
Please understand that the personal purchase does not carry the right to exhibit the film outside of one's home. The usage of this film is protected by US and International Copyright Laws. Our attorneys ask that we include the text below for your review:
According to the Copyright Act, only the copyright owner holds the exclusive right, among others, "to perform the copyrighted work publicly." (Section 106)

The rental or purchase of a copyrighted work does not bear the right to perform the copyrighted work publicly. (Section 202)

Copyrighted works may be shown without a separate license in the home to "a normal circle of family and its social acquaintances" (Section 101) because such showings are not considered "public."

Copyrighted works may be shown without a license to nonprofit educational institutions for "face-to-face teaching activities" because the law provides a limited exception for such showings. (Section 110(1))

All other public performances of copyrighted works are illegal unless they have been authorized by license. Even "performances in 'semipublic' places such as clubs, lodges, factories, summer camps, and schools are 'public performances' subject to copyright control."

Both for-profit organizations and nonprofit institutions must secure a license to show copyrighted works, regardless of whether an admission fee is charged.
Noncompliance with the Copyright Act is considered infringement and carries significant penalties for both the exhibitor and those contributing to the infringing conduct. Unlicensed public performances are federal crimes and can be subject to a $150,000 penalty per exhibition and other penalties. (Sections 502-506)